Ideally the snippet will answer the user's most important questions (for example, address and opening hours) while at the same time piquing their curiosity (by mentioning an upcoming event, for example).
What is in the snippet depends on different factors. On the one hand, it contains information that are in the title or description of your website. On the other hand, the result depends on the term that was searched for, especially when it was a longer term. For this, Google arranges text elements on your entire web site into different groups and uses parts of those to get results that are as precise as possible.
As an example we will use the search for "reservation system gastronomy". Even though there is no specific website for this term, Google sorts us into the first results for those terms.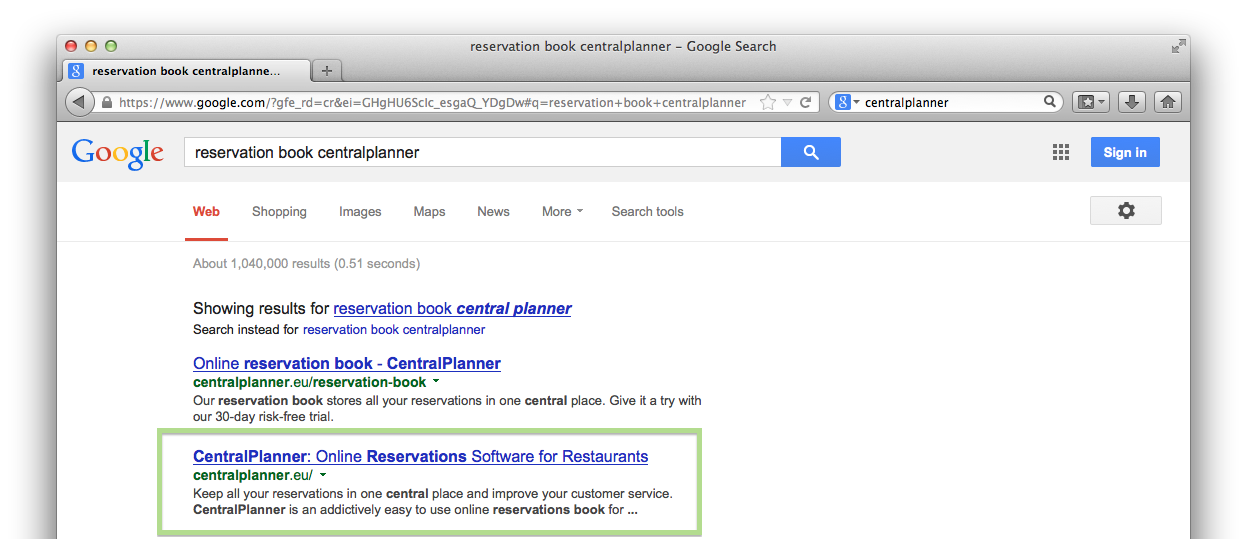 One of the search terms, reservation, has been written bold. The excerpt below the blue link – the snippet – is the description we gave the website. You'll find it when inspecting the website content - it's the "Meta name" tag.
To have your restaurant be easily found by search engines, a few easy measures help:
Make sure the title and description of the website contain meaningful descriptions and keywords. In addition, dividing the text on a website in as many meaningful passages as possible helps. The more clear the structure, the more easily the search engine will find the "right" information. If you want to help this along, it makes sense to read through the Google Webmaster Tools, especially the "Data Highlighter". With this, specific passages on your websites can be highlighted and be more easily recognized by the Google snippets. Jack Menzel, product management director of Google, explains how to do that in this short video.
To be easily found does not only increase your constant stream of visitors on your website, but it can also ease your work load within the business. This happens, for example, by embedding the online form of the reservation system and having to take less reservations on the phone.>