Sustainable food and accommodation in Berlin Friedrichshain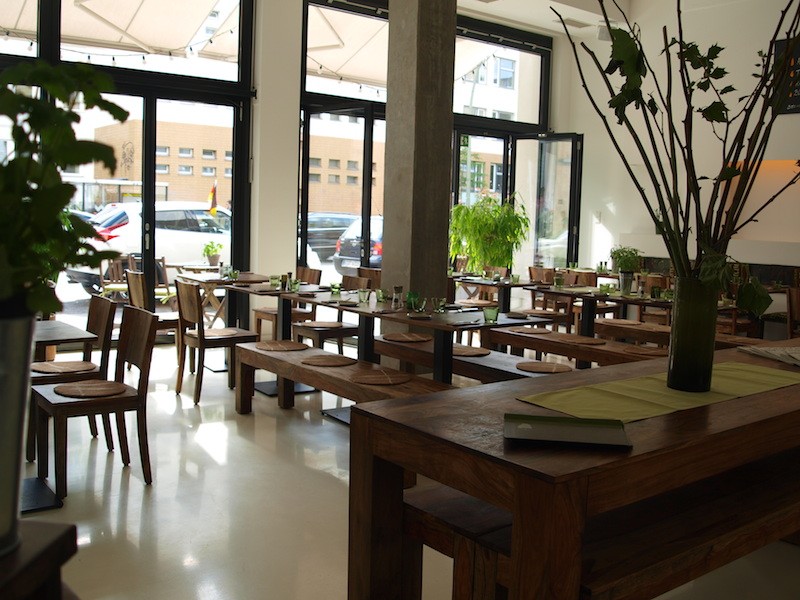 The benches are made ​​from recycled cans. The lamps are made ​​from recycled paper. It sounds like an alternative hippie café but it is an high-class organic restaurant instead. "Bistro Bardot" and "Hotel Almodóvar" in Berlin offer quality and luxury in a very special way.
Snow is falling in Berlin when I visit the restaurant manager Franziska Matern at "Bistro Bardot". Therefore, I am very happy about the ginger and lime tea she offers me. At first sight it is not obvious that the restaurant follows the organic trend. No advertising or evidence that sustainability plays the key role here. The noble interior suggests that "Bistro Bardot" is far more than you would expect from a simple bistro. With vegetarian and vegan organic dishes, fair produced ​​furniture and a sustainable working method the owners want to share their healthy philosophy of life with the guests in hotel and restaurant. "We want to show that it works fine like this, without missing something.", says Matern.
Sustainability at affordable prices
A glance at the menu surprises me. With prices from three euros for starters, five euros for soups and ten euros for main dishes it is much cheaper than I expected. Franziska Matern laughs when I mention this: "We are trying to ensure that not only an exclusive group can afford them." The most popular dish is "Seitan a la Naranja" - wheat gluten medallion in orange-rosemary jus - one of the spanish dishes. The "Züri" is a tribute to the cuisine of Zürich. The typical sliced meat Zürich style is replaced by soy. It comes with fried tofu and tomatoes, mushrooms and bell pepper strips in a creamy sauce.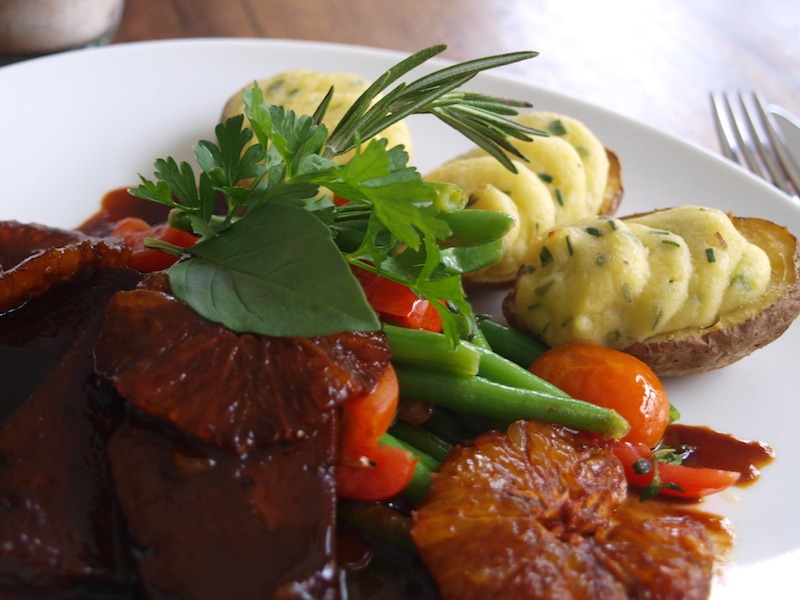 "Bistro Bardot" offers a wide variety but it has its limitations. Matern would love to work with more Mediterranean vegetables, but it is difficult to get those certified by an organic label. There are only a few organic suppliers on the market. This is sometimes restrictive. The restaurant manager points to the ginger and lime tea. "Last winter there were no limes. So we had to remove the tea from the menu."
What goes for food, also applies to other areas. There is for example only one manufacturer for eco friendly detergent that is convenient for the restaurant.  
The guests don't come only because of the sustainability concept. "Some of them don't know about it and are surprised that there is no ham in the bean stew.", says Matern. "In that case we are happy to explain why this is so." Many people come simply because of the central location of the restaurant in the middle of Berlin's district Friedrichshain.
A Veggie hotel with organic minibar
"Bistro Bardot" is part of "Hotel Almodóvar". Here again special emphasis is placed on sustainability. For example, there are no in-room minibars because the high energy consumption and CO2 emissions do not fit to the concept. Cool drinks are served on demand at the reception. The basic principle of the house is sustainability without foregoing anything - guests find at "Hotel Almodóvar" the same comfortable accommodation as the other hotels in the same category offer - only the selection of products is different. The hotel provides only laundry made ​​of certified organic cotton. If the guests don't express the request, the towels are not changed daily, but if the guests wish this service, it will also be offered - the priorities of the guest are always the most important thing.

Franziska Matern is a vegetarian for 15 years now, like many others of the team in restaurant and hotel as well. Vegetarianism is not a hiring criterion but the staff members should at least show interest in sustainability. "It already happened that someone of the team has become a vegetarian.", says Matern. Individuality is very important at "Bistro Bardot". "We have no uniforms, only a dress code.", says the restaurant manager. "Tattoos and piercings are not a problem." Sabine Waske agrees: "People who work here are creative and have strong personalities."

Another thing that makes hotel and restaurant so special: The guests who like the benches made ​​from recycled cans and the tables made of rosewood, can order the same furniture from the in-house catalogue and take a piece of sustainability home.